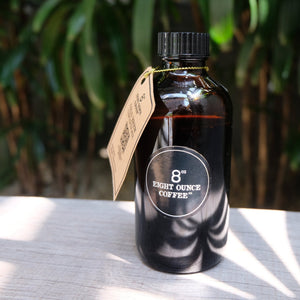 Introducing our 'Cold Brew Concentrate'. Brewed for 18 hours, each 200ml bottle makes approximately 6 cups of coffee. 

Flavour notes : floral, citrusy, dark cocoa and a hint of roasted almond.

Q: How to make the perfect cup of cold brew coffee at home? 
A: Just mix 1 part concentrate with 3 parts water in your favourite cup, and voila! This is our perfect ratio. For a stronger/weaker cup of coffee, feel free to adjust to your preferred taste :)  
Other ideas:

Pair it with our signature Panne Latte; to give you a rich & bright white cold brew.
Try it with your preferred milk/juice/plant-based milk.
Shelf life: 2 weeks